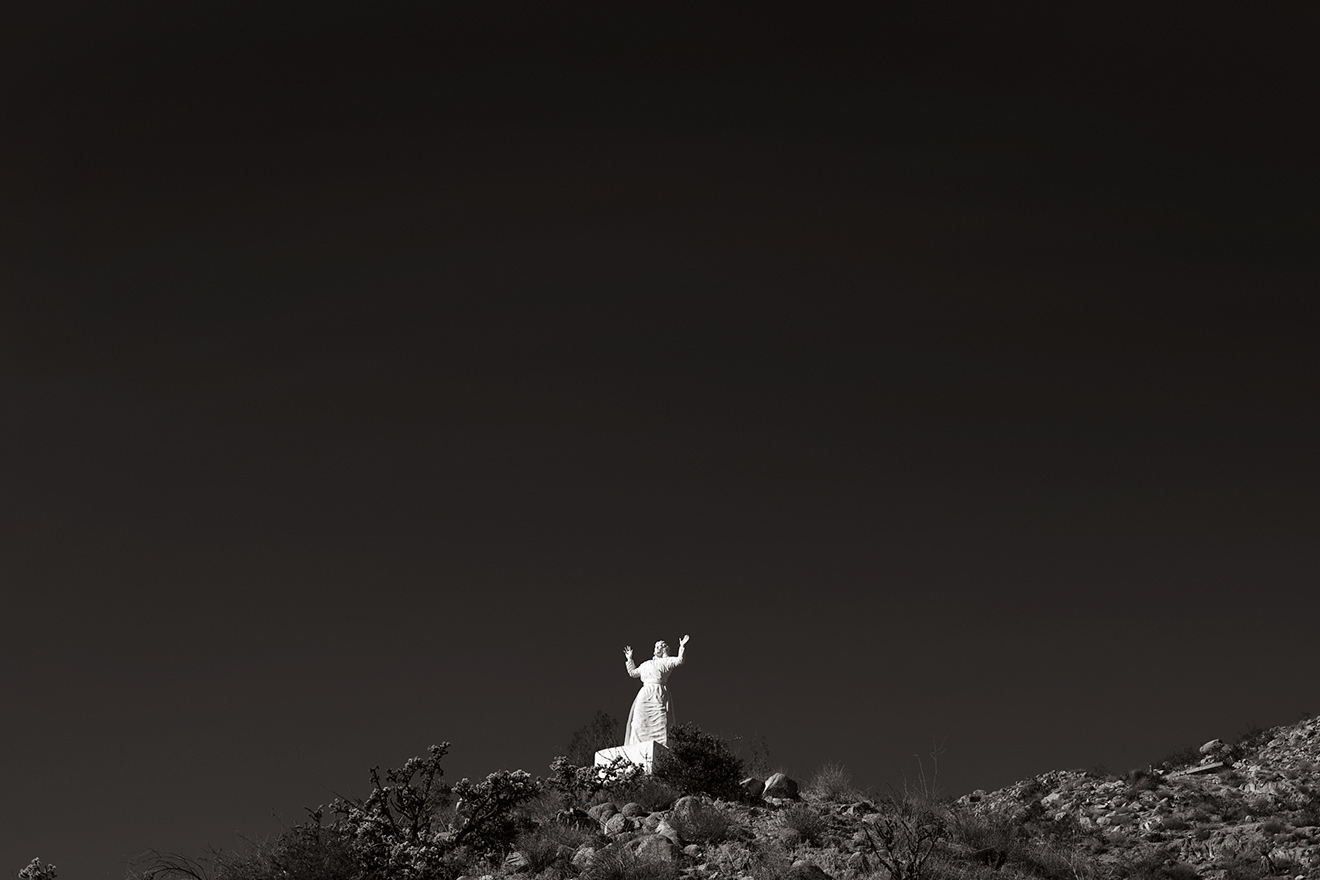 HIGH DESERT
Where outsider artists, off-kilter alien-seekers, off-grid rock climbers, and outlaw music fans intersect.
I'm cruising over the open road - not cruising, soaring - and it's not as open as I'd like to think it is since the days of the endless open road died in the 70's, which was before I moved to L.A. and, furthermore, before I was born. But the hope lives on. The hope of an uninterrupted ribbon stretching from blanched dashboard to shivering horizon.
Most who set their sights to the east are bound for Vegas. Las Vegas isn't really east so much as it is northeast, but it's all the same in the mournful desert. East is east is east. But I'm not going there. What I'm after eddies in the shadowy pockets at the base of the San Jacinto Mountains. It glimmers with the unreality of a hologram, this nimbus at the furthest tip of the horizon. It's found along the roads needling through the Imperial Valley; It's in the highlands and the lowlands, from the torpid humidity of the Salton Sea to cartoonish globs of boulders in Joshua Tree.
The real locus of adventure, I guess, is the road. The road, unspooling infinitely from here till forever.
In Niland, I find that even manmade mountains praise the Lord and even empty places aren't completely void. I find that even a dying civilization can live on the oxygen of a hundred thousand desert flowers, a hundred thousand broken bottles, a hundred thousand moldering structures.
I'm at The Range now, its silence teaming with anticipation, its stillness belying its vibrant bustle, its residents insulated yet exposed. Empty except for the upright expectant smiles of theater seats and fraying armchairs. Empty, except for an inscription scratched in chalk or blood on the ground at my feet:
"Inside all of us is a wild thing."
Laurel Dailey, 2012
Dates, dinosaurs, and duels
Whether you're threading along Highway 62 to Joshua Tree National Park or continuing on Highway 111 to the lowlands of the Salton Sea, your trip should begin with a date shake from Hadley's and, if traffic acts as a wind at your back, take a moment to appreciate the strangeness of the Cabazon's prehistoric residents, forever standing watch between the outlet mall and the casino.
From there, take the 29 Palms Highway (62) north. You'll gain a considerable amount in elevation before descending into Morongo Valley, Yucca Valley, and Twentynine Palms. Refuel at Pappy & Harriet's where you may challenge some unlucky patron to a gunslinging duel at nearby Pioneertown (not really; at most, you'll throw elbows over grabbing a selfie on Pappy & Harriet's infamous stage). May we suggest sleeping it off at the Pioneertown Motel instead?
To that point, the high desert is lousy with places to stay, from more conventional lodging like Mojave Sands Motel, to the truly offbeat, found at Hicksville Trailer Palace. Moreover, vacation rentals have swept the scene in recent years, with offerings ranging from gleaming Airstream trailers on the cheap to airy, modern bungalows with a killer view of the night sky.
where art and nature intersect
The desert tends to attract a certain kind of folk. Scanning the scrubby horizon for signs of normalcy will get you nowhere. Best embrace the oddness now, with a visit to artist Noah Purifoy's unsettlingly quiet outdoor museum. Continue your appreciation of land-specific art with Andrew Rogers' Rhythms of Life, Or gaze into the blanched, vacant eyes of Jesus' disciples at Desert Christ Park. Bathe yourself in good vibrations with a sound bath under the Integratron's soaring parabolic dome. Pick up a pair of vintage boots at the Sky Village Outdoor Marketplace and stoop into Bob Carr's glittering Crystal Cave while you're there.
However intriguingly these manmade altars to freedom of expression may coexist in nature's sanctuary, there's nothing more awe-inspiring than nature itself. In this case, whether scrambling over boulders at Hall of Horrors, watching the Perseid Meteor Shower in late August, or escaping the heat on the Fortynine Palms Oasis trail, no two Joshua Tree visits are alike. Give yourself plenty of time to get (metaphorically) lost. In either case, don't forget to bring water.
Quench your thirst in the desert
But first, coffee: sip that morning cup o' joe along with breakfast at Crossroads Cafe or duck into Joshua Tree Coffee Co. for locally roasted beans. Once properly caffeinated, spend time on the main drag: there are an abundance of shops cropping up along Twentynine Palms Highway. Hunt for vintage treasures like cow skulls or turquoise bolos at Pioneer Crossing, Funky & Darn Near New, and The End. Score hip desert essentials at Hoof and the Horn and geometric pots at BKB Ceramics, or, further off the beaten path: health and home goods at Wonder Valley.
As night falls, spend the evening sipping whiskey sodas at Joshua Tree Saloon. If cheap beer and wings aren't your thing, dine in style at La Copine Kitchen.
In space so vast, California's high desert feels as though it's ever-expanding. The desert invites those who crave solitude—elbow room, limitless horizons, a less peopled existence—to slow down and take a long, slow breath. You may not be the only soul out there, but trust us; once you're there, it hardly matters.